Corporate Gifts & Gift Baskets
Niagara's Honeymoon Sweets, LLC. chocolates are a perfect solution for your company gift-giving. Contact us to work with you to customize your gift of chocolate – whether as a corporate holiday gift, company thank-you gift, or customer or employee appreciation gift.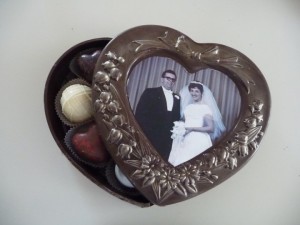 We can create boxed chocolates or chocolate gift baskets to fit any theme. Or include our edible printed chocolate to really personalize the gesture with your logo or photo printed right on a chocolate frame, business card, or disc.
Promotional Giveaway Items
"9 out of 10 people like chocolate. The tenth person always lies." ~ John Q. Tullius
What better giveaway to get people talking about your company than chocolate?
Consider our logo printed chocolates for your next tradeshow event or other giveaway need. You can send us any full-color customized graphic to print – an event logo, a photo, a specially designed message. The printed chocolate is completely edible!
Customized molded chocolate on request
Niagara Falls or other Buffalo area companies who wish to highlight our "Wonder of the World" can also order our one-of-a-kind Niagara Falls chocolate medallion affixed to a customized card with your business message.