Niagara's Honeymoon SweetsLLC. is happy to work with retailers to customize wholesale orders for you to sell in your gift shop, online store, or other retail location. Large volume corporate orders may also qualify for wholesale pricing.
Custom printed  chocolate business cards, discs and squares are retailer favorites!
Please contact us directly at 716-304-6803 or email us to discuss the many options available and wholesale pricing discounts.
Niagara Falls Chocolates for Tourism Retailers
In addition, souvenir shops, hotels, and other retailers catering to Niagara Falls tourists may be interested in our ready-to-sell retail packaging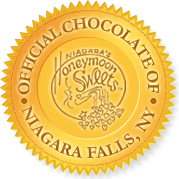 of our patented one-of-a-kind Niagara Falls Chocolate Medallion. It comes packaged with a postcard featuring Niagara Falls artwork.
Additional items of interest: